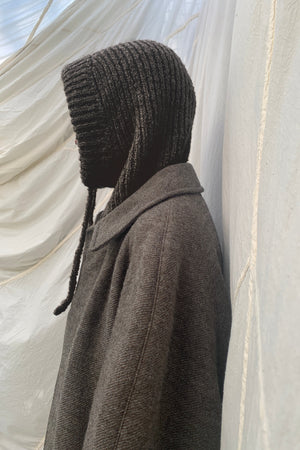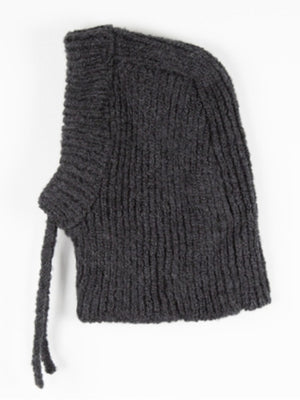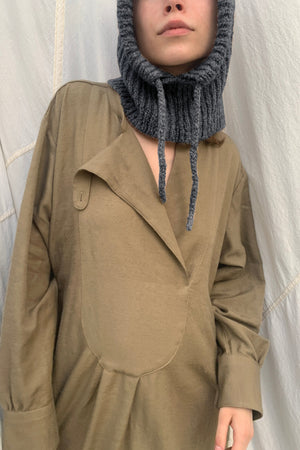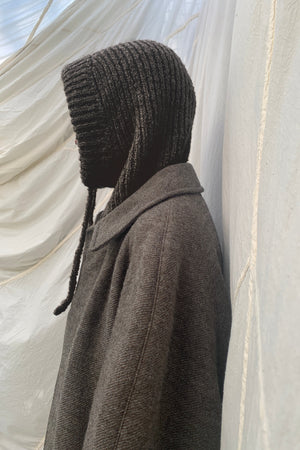 HEDWIG HOOD | Charcoal
Oversized hand knitted balaclava, to be worn like a big hoodie. It is looser in fit in comparison to the Bruna Balaclava, comes with a draw string and is made out of our new very soft irregular yarn 70% organic wool 30% superfine Alpaca, knitted by a women's cooperative in Kent, we have worked with since 10 years.
Composition: 50% Alpaca 50% Organic Wool
Available in Pebble
Available in One Size only
Made in UK
Additional Information: The wool is ethically bred and GOTS certified, fair trade and responsibly sourced, sheared, and reared, unprocessed, unbleached free from any treatments, dyestuffs or toxins; each colour in its natural form, spun in Biella, Italy using 100% green energy.
Sono is a small business with limited resources, therefore we ask you to be as considerate as possible when it comes to returns.  We are more than happy to assist with any queries to ensure you are happy with your purchase and the fit, please reach out to us via our contact page.